D-Star Related News
I will try and keep up with some recent D-star related products and features on this page, to help keep local D-star enthusiasts informed on new products and updates
Icom UK Press Release - ID-5100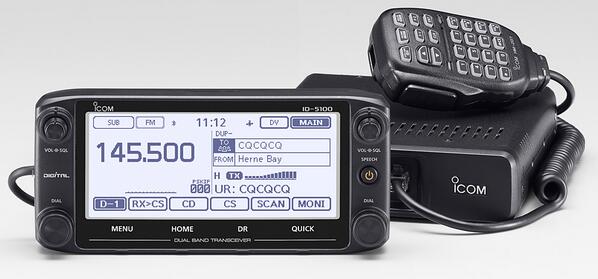 Icom is pleased to announce details of the new ID-5100 dual band D-STAR mobile. As with Icom's latest range of products, this new model has a new generation design and range of features including large, responsive touch screen LCD, Bluetooth connectivity and second station control through an Android device*.
* Optional Bluetooth unit UT-133 is required. Android software is available free.
Planned Features
• Large, responsive touch screen LCD
• Optional UT-133 Bluetooth unit enables audio accessory connection and Android terminal connection (CI-V via Bluetooth SPP profile).
• Optional VS-3 Bluetooth pendant earpiece microphone has volume adjust buttons, PTT and three programmable buttons. Third party Bluetooth audio accessories may also be compatible (not guaranteed).
• RS-MS1A Android application will be a free to use download. It controls the radio for DR mode operation, exchanging text messages/pictures and showing GPS location over Google Maps.
• Independent VHF and UHF band units (VV/UU capable) for 50W output
• Enhanced DR mode (also include analogue repeaters)
• Added "Nearby Repeater Scan" in DR scan function
• D-Plus reflector usability (can select "reflector" in TO field)
• DV Dual Watch for simultaneously waiting in two DV voice streams (decodes one only)
• Home button (same as ID-51 feature)
• D-PRS enhancements (details to be announced)
• 1,000 memory channels
• Built-in GPS engine (inside the controller, no EXT antenna possible)
• ESN (Electronic Serial Number) / SD Card slot (in the black box main unit).
• New HM-207 control microphone is supplied as standard.
• Other Features
o Wideband receiving (receives 118-137MHz(AM), 137-174/375-550MHz only)
o Antenna RX diversity (second antenna connector)
o TNC/9600bps modem connectivity
o DTMF decode (and mini-repeater control)
These are still preliminary details of the new radio series and specifications may change.
To download high resolution images of this product, please visit the image bank at: www.icomuk.co.uk/imagebank.
Introduction to Icom's Touch Screen ID-5100
Here is a review of the ID-5100 from amateur logic TV ID-5100 Review
Email us and let us know your thoughts...

D-STAR Main Current D-STAR activity GateWay Mapping Utilities and Tools CallSign Lookups

New to D-Star Intermediate Help Advanced Techniques D-Star News